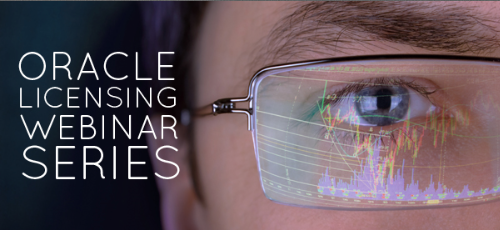 With the end of Oracle's fiscal year in sight, many clients seek unbiased information with regard to Oracle licensing. Together with a US Partner we invite clients around the globe to join our 3 sessions, dedicated to Oracle licensing. The sessions are available for Oracle end users only, and free of charge. If you have specific subjects you are interested in, please do let us know so we can answer your questions.
As always, we'll illustrate everything with real case studies.
DATES AND SUBJECTS
Date
Time
Subject
April 10th, 2014
8:00 AM PDT
Oracle Technology Licensing: What are the best practices, and what are the most common pitfalls in implementing Oracle technology causing in-compliance.
 April 15th, 2014
8:00 AM PDT
Oracle ULA: How to negotiate, manage end exit an Oracle ULA. Everything you need to know is covered, including the 'traps' which can either cost or save you millions.
 April 17th, 2014
8:00 AM PDT
Oracle & Virtualization: There's a lot of FUD about virtualizing Oracle. We'll clearly explain what the problems are, and what the contractual and legal discussion really is about.
It's all about making informed decisions, so get informed: To virtualize or not, and how?
Let us know which webinar(s) you would like to attend!