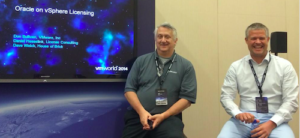 Na VMworld 2012 en 2014 zijn we weer aanwezig op VMworld 2015.
Bekende sessies:
Barcelona:
Sessie-ID: VAPP6538-GD
Sessietitel: Oracle on vSphere Licensing with House Of Brick & License Consulting.
Track: Software-Defined Datacenter
Meer info zal worden toegevoegd in de komende weken. Als u een 1:1 wilt hebben tijdens een kopje koffie, neem dan gerust contact met ons op.