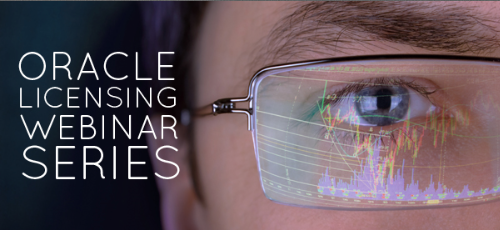 Met het einde van oracle's fiscale jaar in zicht, veel klanten zoeken onbevooroordeelde informatie met betrekking tot Oracle licenties. Samen met een Amerikaanse partner nodigen we klanten over de hele wereld uit om deel te nemen aan onze 3 sessies, gewijd aan Oracle-licenties. De sessies zijn alleen beschikbaar voor Oracle-eindgebruikers en gratis. Als u specifieke onderwerpen hebt waarin u geïnteresseerd bent, laat het ons dan weten zodat wij uw vragen kunnen beantwoorden.
Zoals altijd illustreren we alles met echte casestudies.
DATA EN ONDERWERPEN
Datum
Tijd
Onderwerp
10 april 2014
8:00 PDT
Oracle Technology Licensing: Wat zijn de best practices en wat zijn de meest voorkomende valkuilen bij het implementeren van Oracle-technologie die in-compliance veroorzaakt.
15 april 2014
8:00 PDT
Oracle ULA: Hoe te onderhandelen, beheren einde exit een Oracle ULA. Alles wat u moet weten is gedekt, met inbegrip van de 'vallen' die ofwel kunnen kosten of bespaart u miljoenen.
17 april 2014
8:00 PDT
Oracle & Virtualization: Er is veel FUD over het virtualiseren van Oracle. We zullen duidelijk uitleggen wat de problemen zijn, en waar de contractuele en juridische discussie echt over gaat.
Het draait allemaal om het maken van weloverwogen beslissingen, dus laat je informeren: Om te virtualiseren of niet, en hoe?
Laat ons weten welke webinar(s) u wilt bijwonen!